3-day Fishing Permit, Relax Fishing Sweden, Laholms Laxfiske & Nissans Sportfiske
Address: Halmstad & Laholm
Show map
Address: Halmstad & Laholm

The Fishing Permit is valid for three consecutive days for both Nissans Sportfiske and Laholms Laxfiske. See how the Fishing Permit must be worn and note all current fishing rules on the relaxfishingsweden.com website before you start fishing.
A season ticket is personalised and cannot be used by anyone else.

The Fishing Permit is valid for the Lagan/Laholms Sportfiske for the section immediately downstream of the power plant in Laholm and out to the mouth of the river. Children under18 fish for free in the river Lagan.

The Fishing Permit is valid for the Nissan/Nissans Sportfiske from Oskarström to the mouth of the river in the designated fishing pools.. For the period 1 October to 14 October, fishing may only be carried out in certain pools.
Children under 12 fish for free in the river Nissan.
Show more
Hotels & Guest house
Distance: 730 meters
BEST WESTERN PLUS Grand Hotel – a venerable full-service hotel set in an early 1900s building in the city centre of Halmstad. We offer 108 nonsmoking rooms, all individually decorated with free wireless internet access. The Grand Hotel is your home away from home whether you are visiting on business or pleasure. Why not make an escape from home and come and stay with us. We are all yours 24/7.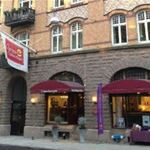 Hotels & Guest house
Distance: 531 meters
Clarion Collection Hotel Norre Park is a member of the hotel chain Choice Hotels Scandinavia. Clarion Collection Hotels is Choice Hotels newly established brand for smaller business hotels which focuses on individual service where guests should feel at home. These hotels are to a high structural standard with individual character in terms of history and location. Generosity and familiarity characterizes our hotel, we treat our guests to everything from breakfast to a light supper. In the sauna and relaxation area we offer free refreshments and a chance to just take it easy and enjoy.
Youth hostels
Distance: 769 meters
Halmstad/Kaptenshamn hotel and hostel are in central Halmstad, right round the corner from the town's culture and leisure. The Central Station is only a couple of minutes away, and our distinguished house from 1912 houses a cosy restaurant.