Season ticket Relax Fishing Sweden – Torvsjön 2018
Address: Torvsjöns Fiskevårdsområde Halmstad
Date: Wednesday 14 nov 2018 - Monday 31 Dec 2018
Show map
Address: Torvsjöns Fiskevårdsområde Halmstad

The Fishing Permit applies to Torvsjön. When buying a Fishing Permit you must acquaint yourself with current fishing regulations on relaxfishingsweden.com before you start fishing, and you must also take note of how the fishing permit should be worn.

The fishing permit is valid: 2018-01-01 - 2018-12-31
The Fishing Permit applies to Torvsjön. When buying a Fishing Permit you must acquaint yourself with current fishing regulations on relaxfishingsweden.com before you start fishing, and you must also take note of how the fishing permit should be worn.

The fishing permit is valid: 2018-01-01 - 2018-12-31
Show more
Book now - choose start date and product
About this activity
Street address 1

Torvsjöns Fiskevårdsområde

Contact person email
Hotels & Guest house
Distance: 8.9 km
A Hotel with a view! Being Halmstads most visible hotel we offer you more than a room for the night. We have excellent conference facilities and a good cuisine. Above all we can offer you a stay in comfort and with consideration. With a view of the ocean and the city of Halmstad.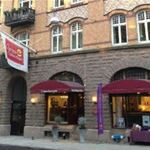 Hotels & Guest house
Distance: 10.4 km
Clarion Collection Hotel Norre Park is a member of the hotel chain Choice Hotels Scandinavia. Clarion Collection Hotels is Choice Hotels newly established brand for smaller business hotels which focuses on individual service where guests should feel at home. These hotels are to a high structural standard with individual character in terms of history and location. Generosity and familiarity characterizes our hotel, we treat our guests to everything from breakfast to a light supper. In the sauna and relaxation area we offer free refreshments and a chance to just take it easy and enjoy.
Hotels & Guest house
Distance: 10.5 km
BEST WESTERN PLUS Grand Hotel – a venerable full-service hotel set in an early 1900s building in the city centre of Halmstad. We offer 108 nonsmoking rooms, all individually decorated with free wireless internet access. The Grand Hotel is your home away from home whether you are visiting on business or pleasure. Why not make an escape from home and come and stay with us. We are all yours 24/7.